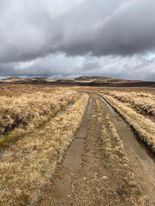 North Highland Harriers is a thriving running club based in Caithness. We cater for runners of all abilities aged 18 and over participating in road, trail, cross country and hill running. We have training sessions in both Thurso and Wick and regularly run all over Caithness and Sutherland.
Please see News and Training page for current guidelines and position on squad training.
Note the new Other running events tab, which provides two new pages:
 – Cross-country (XC)
 – Other events
If attending training please respect each other's personal space. Please do not come to training/events if you feel unwell regardless of whether it's COVID-19 or not. Please follow all Scottish Government guidance/legislation at all times. 
North Highland Harriers are pleased to announce that the Caithness half marathon 2022 will take place on the 11th September.  A 5k fun run will
Read More »
Despite a chilly and wet start, 21 Harriers attended the final trail run in the 2021 / 2022 season. Within half an hour, the clouds
Read More »
16 Harriers ran the scenic but rather windy beach and bark trail run. Other than the wind, the weather conditions were good with welcome spring
Read More »