Welcome to the Castle of Mey 10k
North Highland Harriers, with the kind permission of the Castle and Gardens of Mey, are proud to bring you the Castle of Mey 10k,  the most northerly 10k on the British mainland. The race is run in the beautiful grounds and surrounding countryside of the historic 14th century Scottish Castle, the Queen Mother's home in Caithness. This is a Scottish Athletics permitted race.
Entry to the race is now closed.
We look forward to welcoming you on Sunday 26 May 2019.
10k Registration and Race Timings
Registration is from 12.00 to 1.30pm, at the front of the Castle. Please register as soon as you arrive to save queuing. No numbers will be issued after 1.30pm, so please leave plenty of time to register.
Please take a copy of your race number to the Registration desk to collect your race number. Registration desks will be set up by number; 0-100, 101-200, and 201-350. Please let us know of any changes to your registration details, in particular in relation to medical details.
We have a warm up with Caithness Gymnastics Club at approx. 1.45pm, just in front of the Castle, you will then be raring and ready to start the race at 2.00pm. The race starts at the front of the Castle.
Routes
The Castle of Mey 10k and Mey Mile all start and finish in front of the historic Castle of Mey 10k.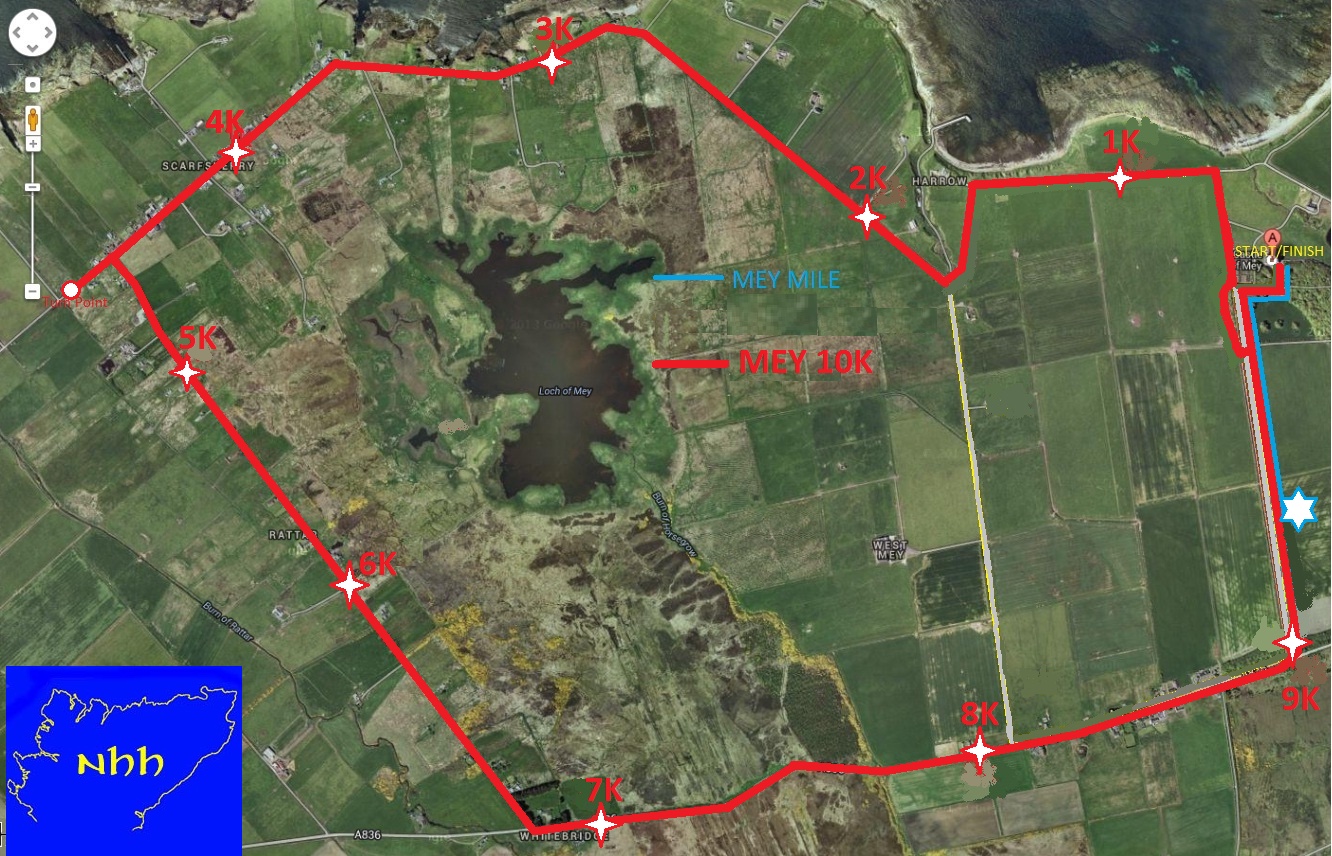 Race Numbers 
Your number should be secured to the front of your kit using safety pins. It must be worn on the garment that will be visible when you finish the race. We will have plenty of safety pins at registration, you don't need to bring your own.
Your timing chip is integrated within your race number.
Mey Mile 
 In addition to the Castle of Mey 10k, the event also offers the Mey Mile fun run and walk. The Mey Mile is open to all ages and we would encourage our younger members to take part. We welcome runners and walkers to participate in the Mey Mile.
The Mey Mile registration will be open from 12.00 – 1.30pm, with the Mey Mile starting at 2.05pm. Please note that registration will close at 1.30pm sharp for the Mey Mile this year.
The Mey Mile has a registration fee of £2 per entrant. All participants under the age of 16 must be registered by an adult with a mobile phone. All participants under the age of 5 must be accompanied by an adult and run within arms reach of this adult. All participants aged between 5 – 15 must have an adult who is responsible for them and who remains within the spectators area, if not participating. 
There are limited numbers for the Mey Mile, so please ensure that you register early.
There are prizes for 1st primary girl and boy and 1st secondary girl and boy. 
T-shirts
T-shirts orders for the Castle of Mey 10k is now closed. If you ordered a t-shirt please collect them in the registration tent when you register for the race.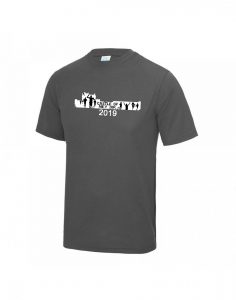 Prizes
This year we have increased our voucher prizes with £460 of Run4It vouchers on offer. Prize vouchers are available for:
1st, 2nd & 3rd  – Male and Female
1st, 2nd & 3rd  – Master Male and Master Female (40 and over on race day)
1st  – Master Over 50 Male and Master Over 50 Female (50 and over on race day)
We also have prizes for:
1st – Local Male and Local Female 
1st – Male and Female Team. First four from any Scottish Athletics or UK Athletics affliated club.
1st – Non Scottish Athletics Team. First four from any team (runners should belong to a business, be friends, family members or members of a non-running club). Register with northhighlandharriers@gmail.com prior to Wednesday 22 May.
All finishing runners will get a goody bag and medal.
Course Record Prize
We are offering a £100 prize for breaking the course records. 
The male course record is 31.02 set by Andrew Douglas in 2014 and the female course record is 36.37 set by Jenny Bannerman in 2017.
Parking
Parking will be available at the Castle of Mey. We strongly encourage you to car share with fellow runners and family and friends due to limited parking space. There will be a minimum £1 parking donation per car. The proceeds will be donated to the Castle of Mey Trust and Thurso Rotary Club. Please note for safety reasons cars will not be permitted to leave the designated car parks during the race, unless there is an emergency. Anyone dropping off to runners will be directed to the carpark at the back of the castle (shore side). When you leave the carpark after the race, you must turn right and follow the road towards the shore to exit the Castle grounds.
Facilities
Toilets and basic changing facilities will be available close to the start / finish area.
 Sports Massage
There will be sports massages available both pre and post race to prepare runners for the event or assist in runners recovery. These will be provided by qualified Swedish and Sports Remedial Massage Therapists. A massage will cost £5. Please turn up in plenty of time to benefit from a massage.
Race Administration 
For runners own safety, you are reminded that earphones and bone conductor earphones connected to phones, mp3 players, fitness watches etc are NOT permitted. Any runner wearing earphones will be removed from the road by marshals in line with UK Athletics rules to ensure your safety while on the public roads.
There are no race entries on the day.
No refunds will be given for runners having to withdraw from the race. 
Swapping of numbers is prohibited under Scottish Athletics governing rules.
No waiting list is held for the Castle of Mey 10k.
Restrictions
The 10k is open to runners over the age of 16 on the day of the race. However 15 year old Scottish Athletics registered runners will be accepted. Please contact us on northhighlandharriers@gmail.com for further details.
Runner with buggies are not allowed to participate due to health and safety reasons.
We unfortunately cannot accept entries from participants wishing to walk the event due to the final section being on the main A836 Thurso to Mey road.
Contact us
If you have any questions drop us an e-mail on northhighlandharriers@gmail.com.